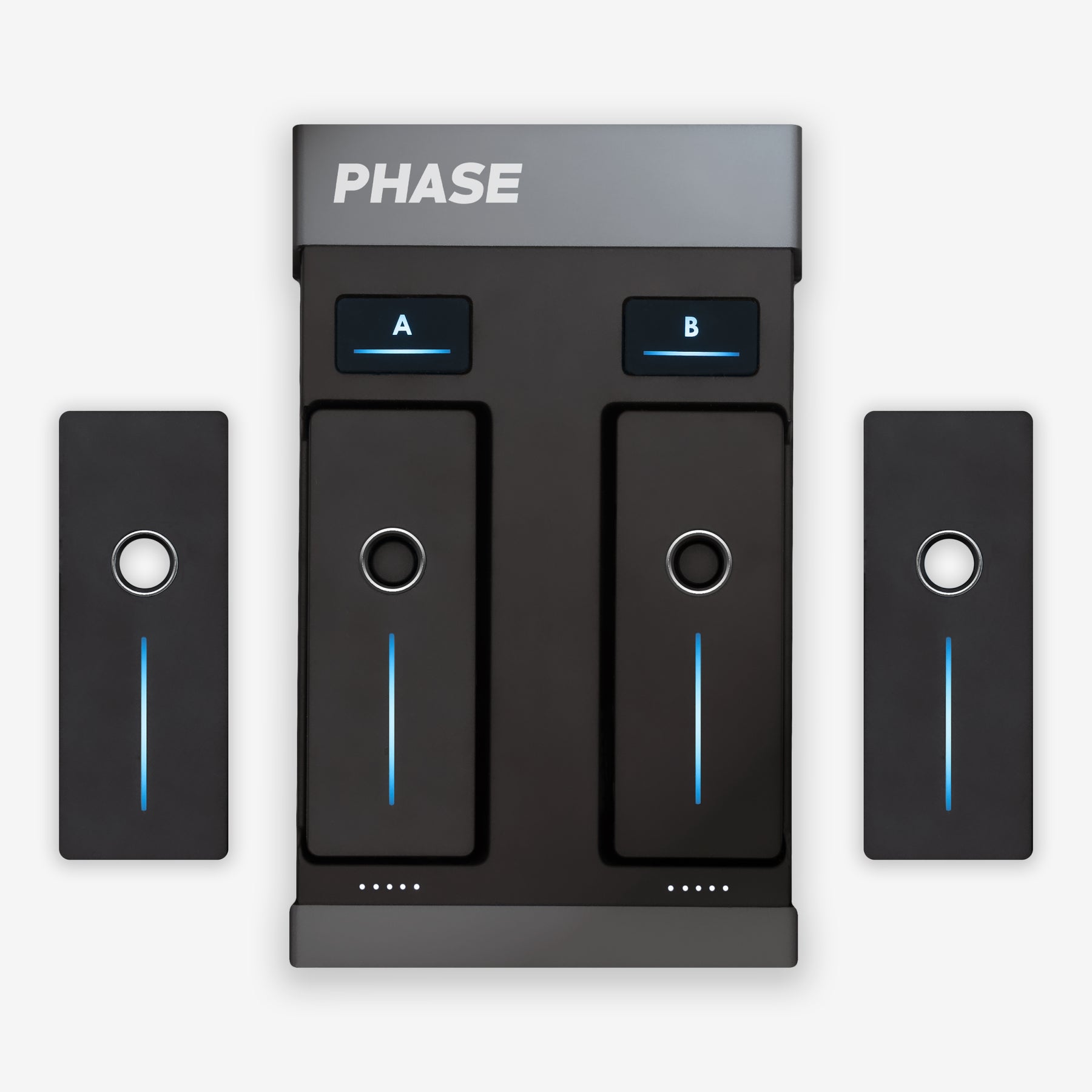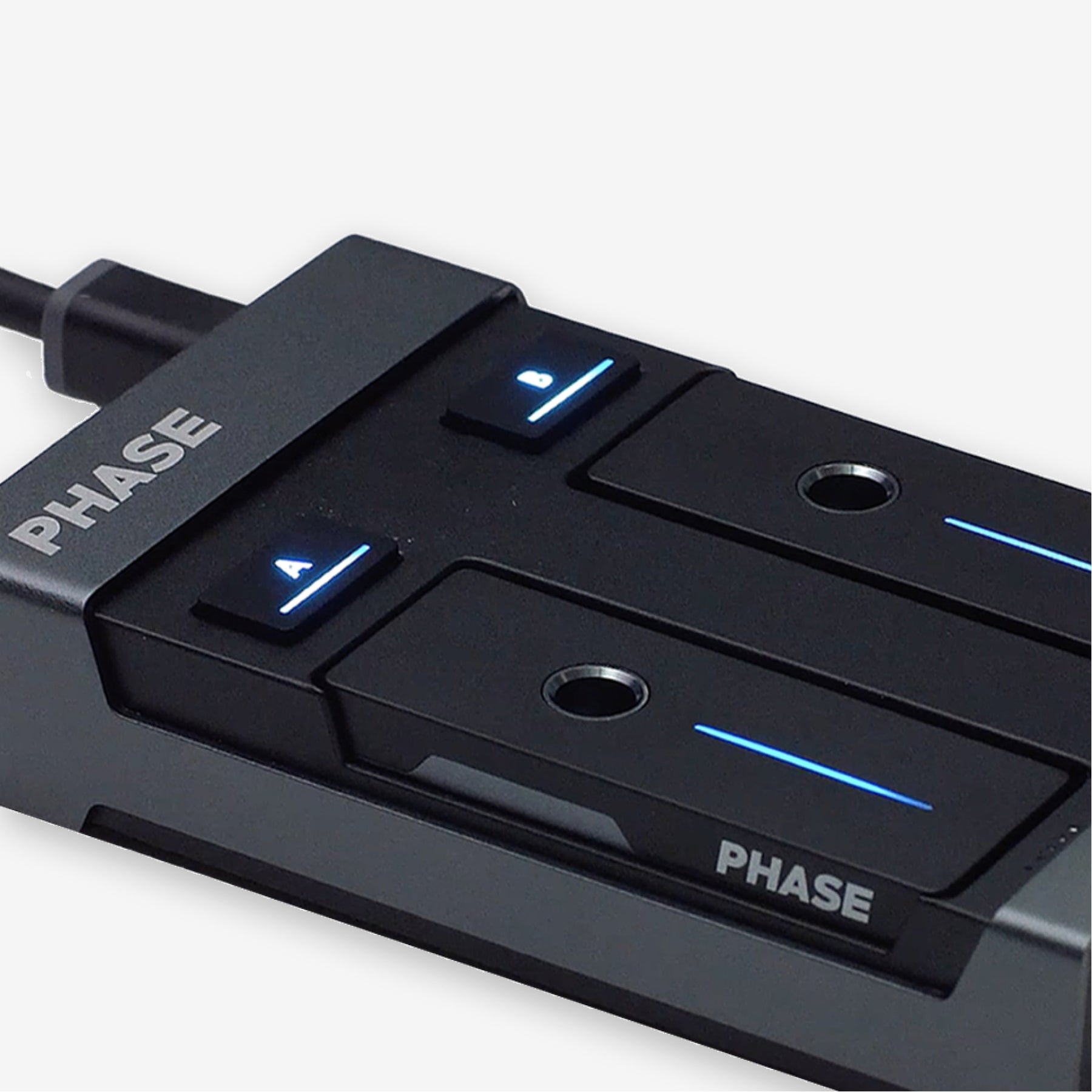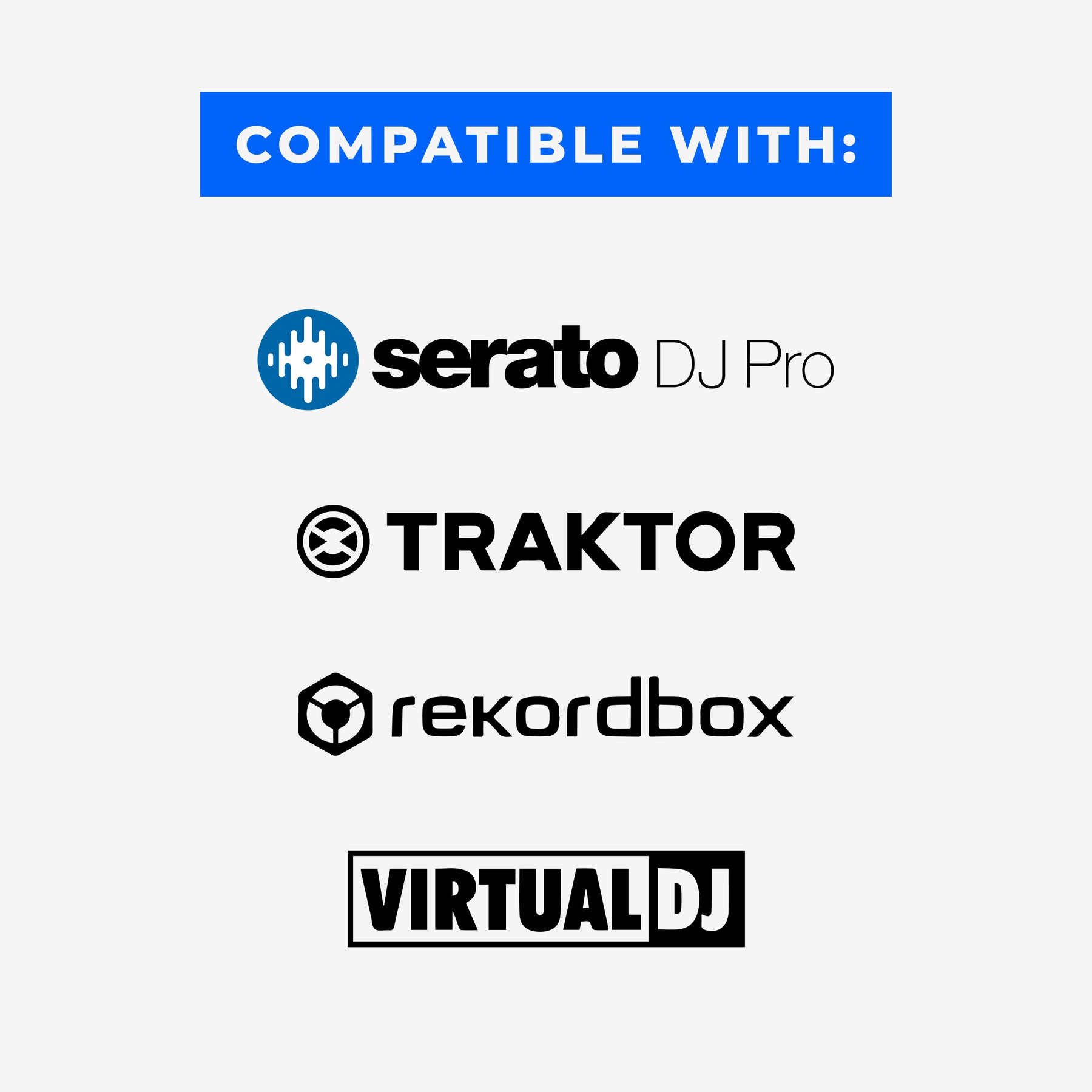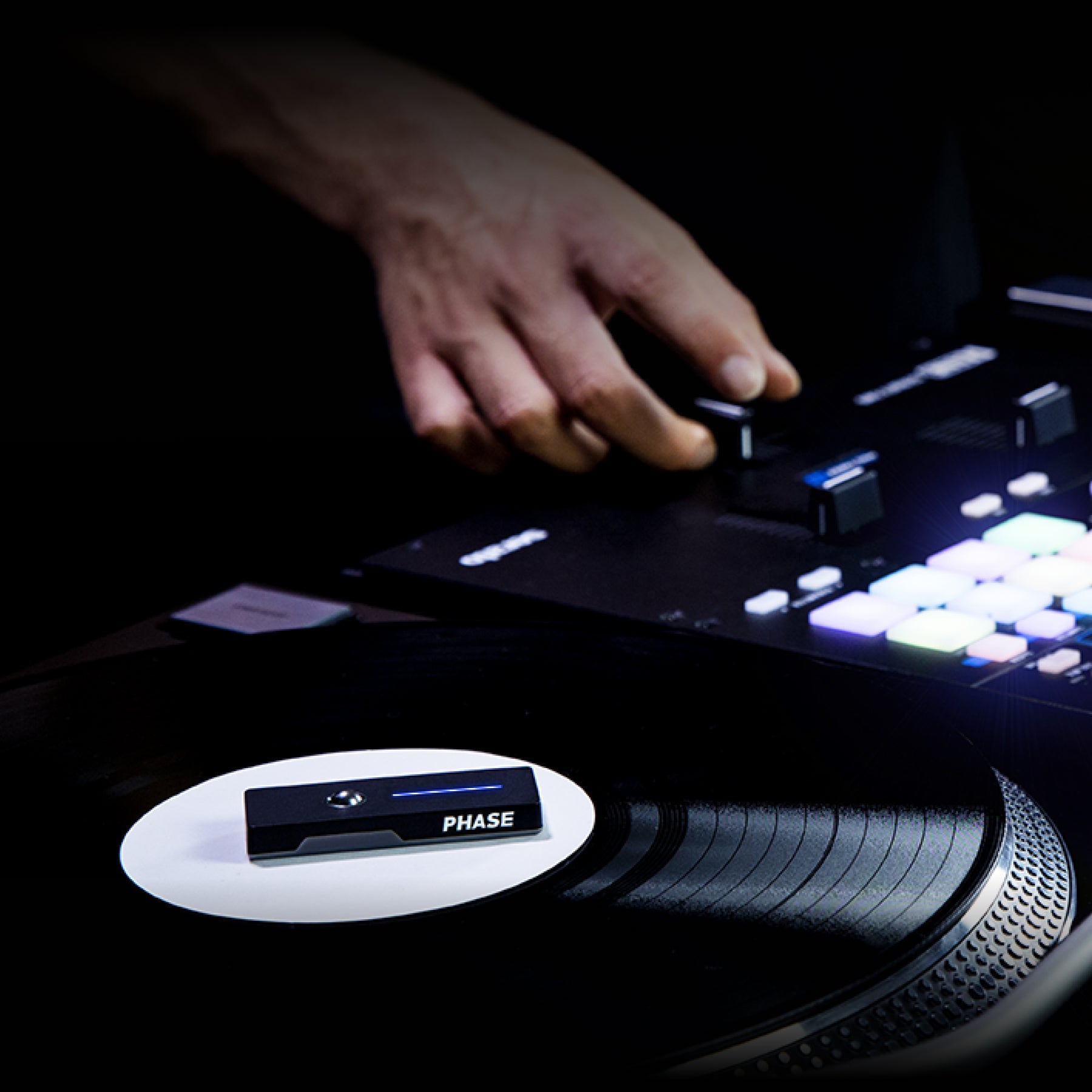 Phase Ultimate
Phase offers the most powerful and reliable setup for all turntable DJs. Mix without needles and get back control of your performance. With the Ultimate Pack, enjoy two extra Remotes for extra performance life.
Compatible with any DVS DJ software.
Free express shipping worldwide! (excl. customs fees if any)
Thousands of DJs are using Phase all over the world on a daily basis.
By switching to Phase:

You'll enjoy the best stability with turntables no matter the stage.Phase sensors are completely insensitive to any type of rumble or vibrations.

You'll be able to use any turntable setup.Phase is compatible with any DVS-friendly DJ software: Serato, Traktor, Rekordbox, Virtual DJ, djay etc.

You'll partake in a unique experience that revolutionized DJing.Mixing, scratching, or beat juggling, Phase tracks any movements, much faster than a standard timecode setup.

You could save money from needles with a gear that lasts.Phase is an evolving product thanks to firmware updates, it will never go obsolete.
This pack includes everything you need to start using Phase:

- 4 Phase Remotes,
- 1 Phase Receiver,
- 1 USB cable,
- 2 RCA cables,
- and 4 Magnetic stickers.
Phase is very easy to use and is compatible with any turntables, and any DJ software DVS-friendly.
It only requires to use a DVS interface such as DVS built-in mixers, or analog mixers with DJ soundcards.

-DJ software: Serato DJ Pro, Traktor, Rekordbox, Virtual DJ, djay etc.
-DVS mixers: S11, S9, Rane 70, 72, Reloop Elite etc.
-DJ soundcards: Denon DJ DS1, Traktor Audio 2, Rane SL2, Reloop Flux etc.

➤ Click here to read detailed compatibilities.
- Robust and high-quality aluminum built.
- Up to10 hour batterylife per Remote after 2 hours of charge (5V).
- Standard lithium-ion batteries with a cycle of10 yearsof use.
- Allows controlling2 deckssimultaneously.
- Customizable LED with a wide range of color and gradients.
- Patented radio protocol of communication that ensures aseamless signal qualityin any situation.
- The maximum distance between Phase Receiver and Remotes for the best control: up to 2 meters.
Free express shipping worldwide.We cover all shipping costs for the purchase of a Phase Essential.

14 days to test, keep it or return it!A flexible 14-day returns policy offers you to return your product and request a complete refund. (Terms of Sale)

Manufacturer's warranty of 2 yearsWe will handle all replacement or repair of your product up to two years after your purchase in case of damage due to the wear and tear.
However, if your product is faulty, we take 100% charge of replacing it no matter the purchase date. (Terms of return)

Personalized and reactive customer serviceOur product specialists accompany you in the use of our products.
Average estimated reply time is 24 hours (Paris, CET).

Don't hesitate tocontact us here, if you have any questions, we are here to help!
DJ CARLO - NOVEMBER 2022
"Phase makes DJing with turntables not only an easy experience but a better one."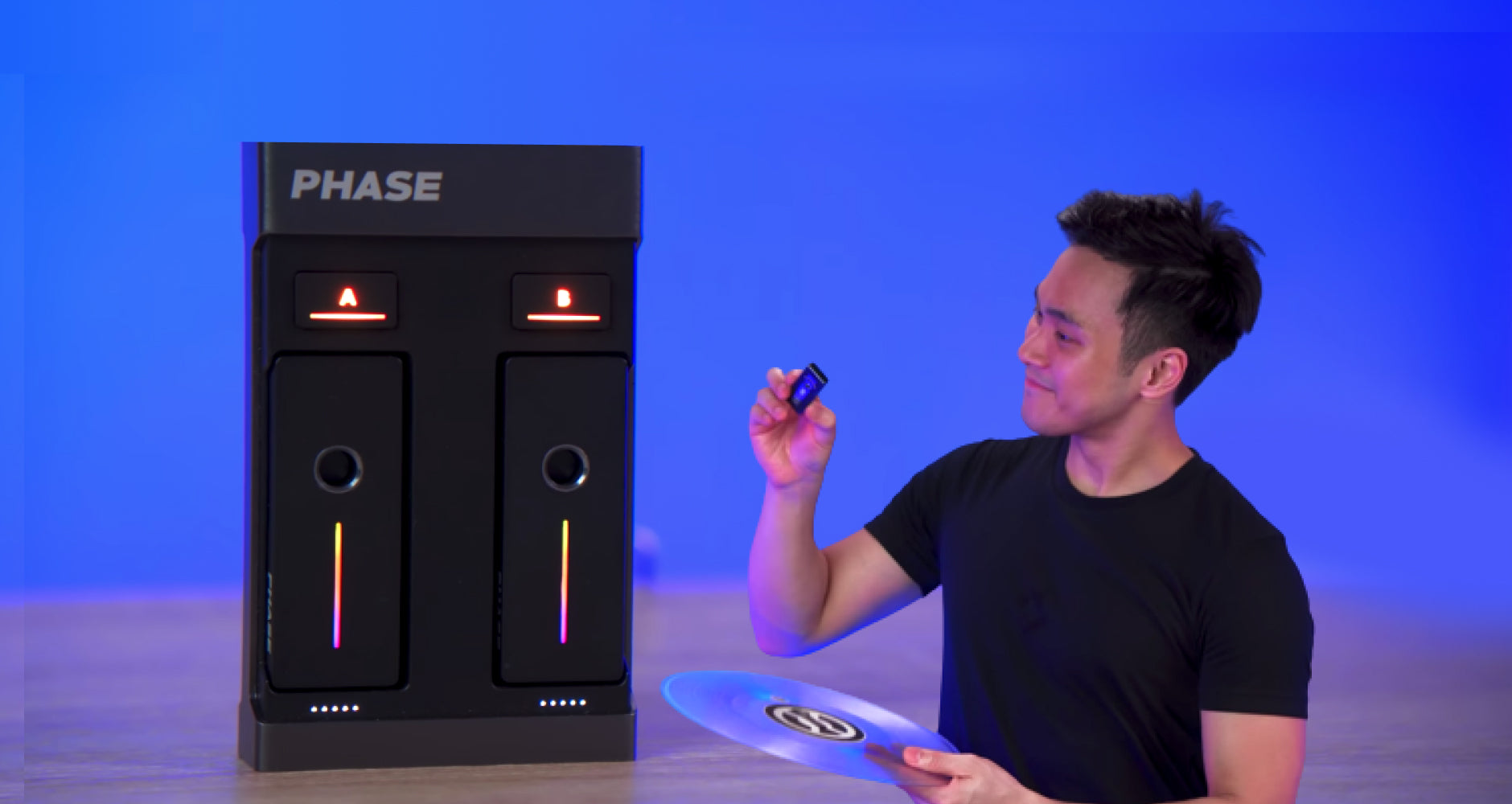 What do users think about Phase?
Why you should use Phase?
From day one, we've been working closely with DJs all over the world to create a product that fulfills their needs as turntable DJs, in terms of accuracy and stability, like nothing else in the industry. Thanks to their help and feedback, Phase has become much more than just replacing needles.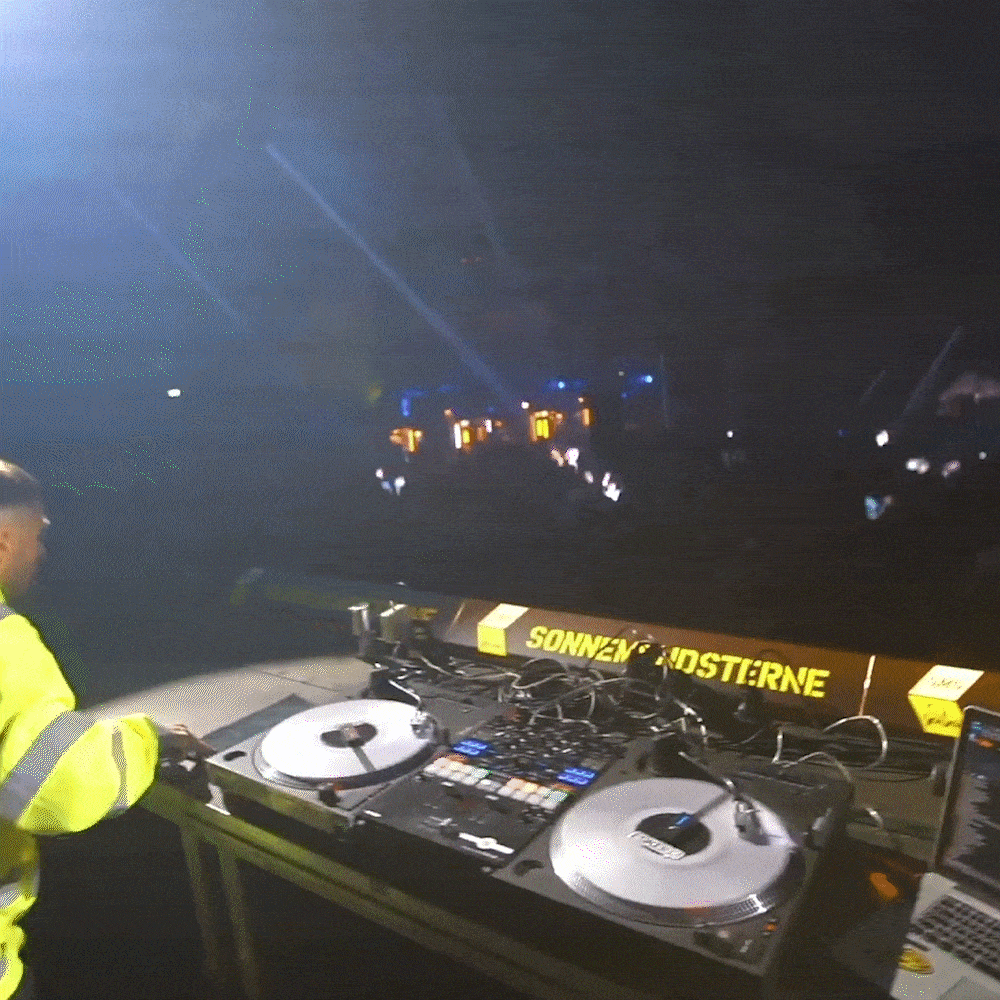 WHY YOU SHOULD USE PHASE?
You will enjoy the best stabilitywith your turntables no matterthe stage.
Jumping crowd is cool, but jumping needle? Not so much!
We made sure that the Phase Remotes would be completely insensitive to any type of disturbances to offer the most reliable and stable setup for DJs.
WHY YOU SHOULD USE PHASE?
You will enjoy a top-notchaccuracy, faster than any otherDJ setup.
With an overall latency chain of less than 5ms, Phase technology has been designed to be much faster than a standard timecode setup. Whether you prefer mixing, scratching, or beat juggling, even your slowest movements are detected by the Remotes thanks to very precise tracking gyroscopes.
WHY YOU SHOULD USE PHASE?
You will save money by buyinga long-lasting gear.
Between changing the needles every 2-3 months, buying timecode vinyl, maintaining turntables, cables, and so on, it can quickly represent a substantial budget for DJs who perform regularly. You buy Phase once, you keep it for years. We made sure we could keep updating it, adding new features and improvements via firmware upgrades without the need of purchasing a new one.

Also, to ensure the longevity of the unit, we designed the hardware to be robust, with materials that last for years, like aluminum reinforcements.
FAQ
If you still wonder if Phase is compatible with your setup or if we ship to your country, you're in the right place!
Phase requires a primary device that enables DVS / Timecode.
It means that you need to have either a DVS built-in mixer such as Pioneer S7, S9, S11, Reloop Elite, Rane 62,72, or an analog mixer with a DJ soundcard just like SL1, Denon xx.
If you already own a DVS interface, then Phase is already fully compatible with your setup.
Also, note that to configure and update your Phase you will need to use Phase Manager, its dedicated app.
This app is compatible with PC 10 and MacOS 10.10 and up.
Yes, we offer a free express delivery to any Phase unit bought on our official online shop delivered via UPS / Chronopost (FR only).
Note that we are currently not shipping to Ukraine, Brazil, Russia and Belarus.
Yes, we cover the shipping costs for the purchase of a Phase Essential, no matter where you're based.
If you only buy accessories, shipping costs will be calculated according to your location.
Some countries can apply importation custom taxes, these will be estimated and calculated in the cart validation process.
The Phase Care is automatically included for free with the purchase of a Phase unit. It includes:
- Personalized and reactive customer service provided by our Product specialists.
- Full care and support for product repair or exchange in case of a faulty unit.
- 2-year manufacturer warranty in case of damage due to wear and tear of your product.
- Flexible 14-day policy, to return your product after purchase and request a complete refund.
See the full Phase Care terms, and the hardware warranty.
If you change your mind about one of our products, you have 14-days to return it starting on the delivery date, and get a full refund. (exclusions apply). Note that the product will have to be returned intact in its original condition and with all the accessories included in the first place. The shipping costs of the return will be at your expense.