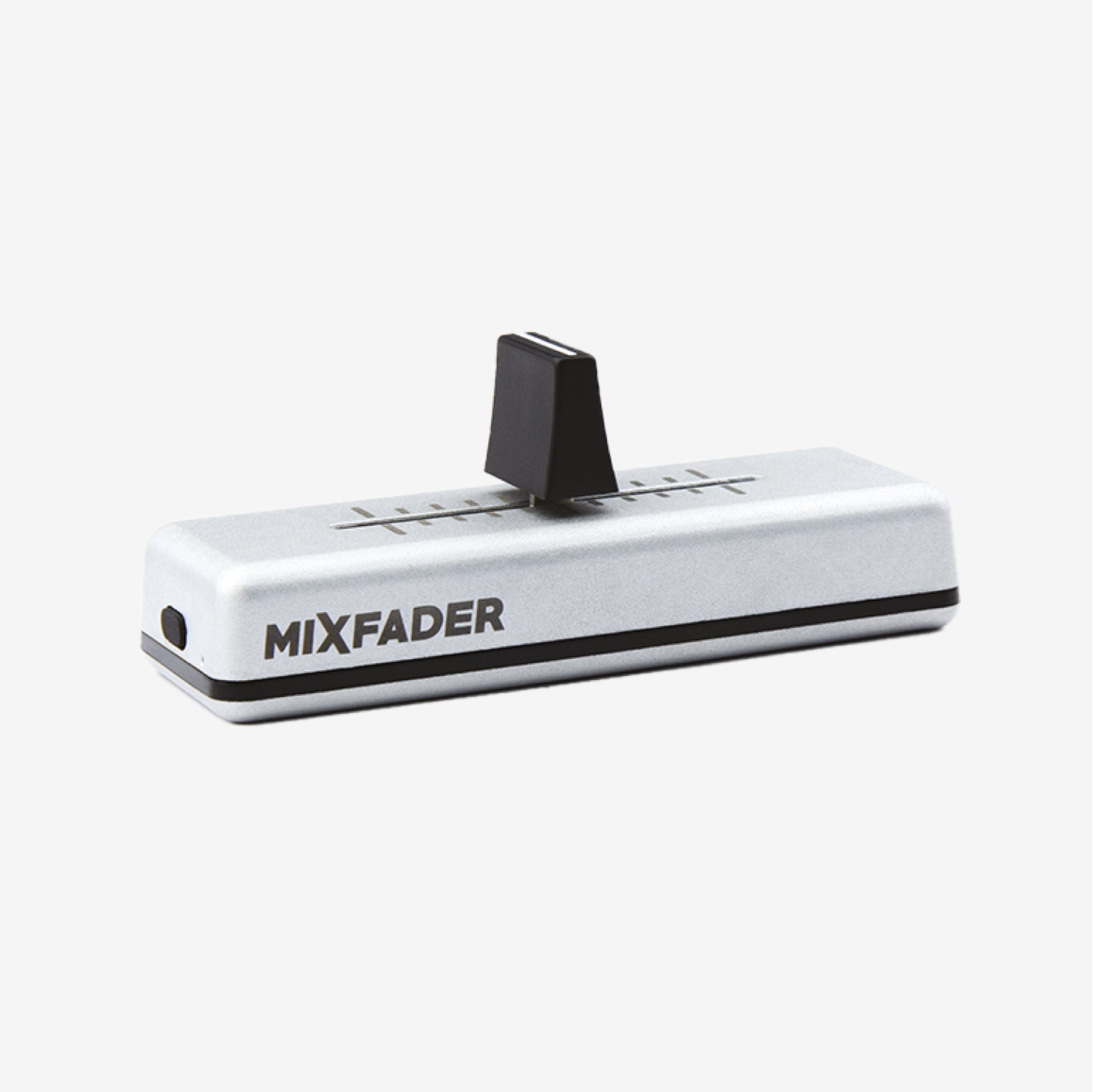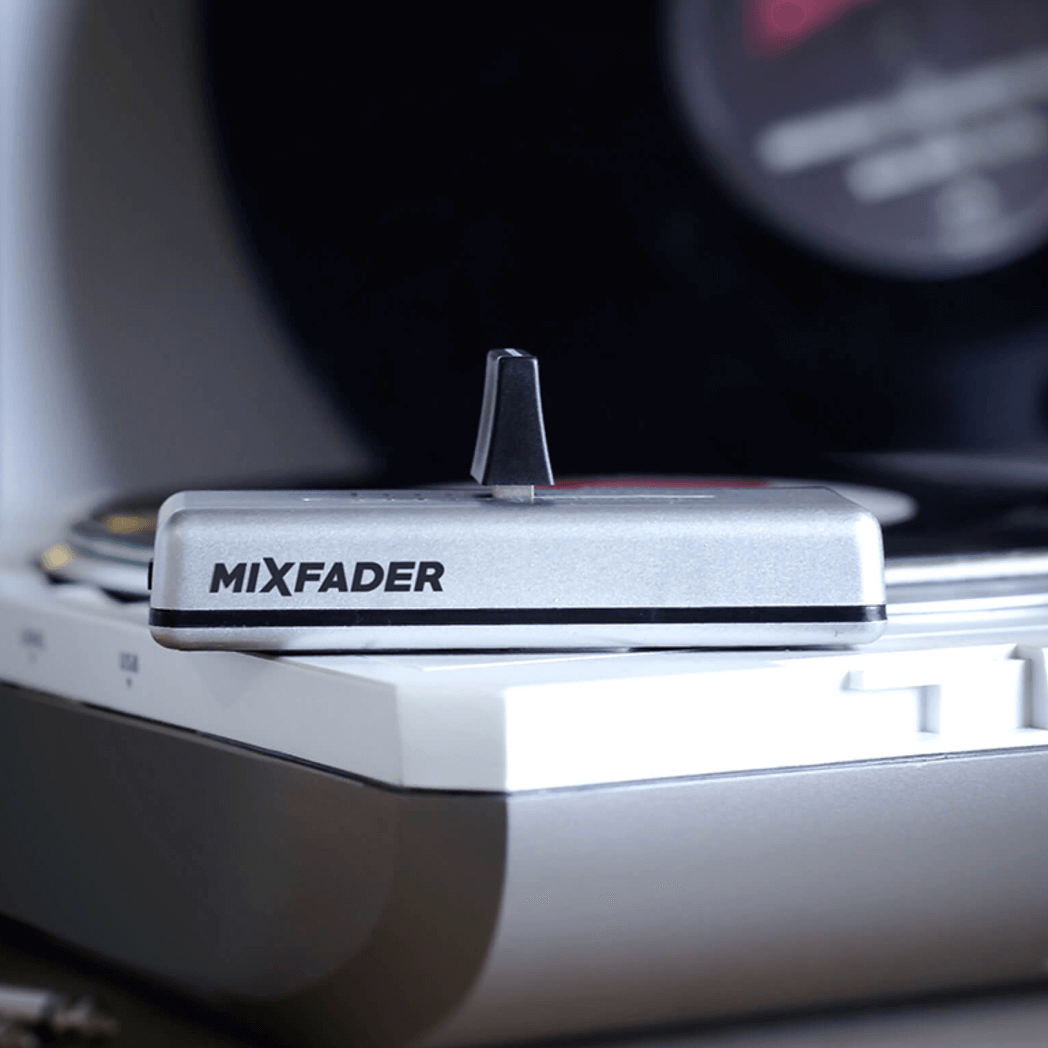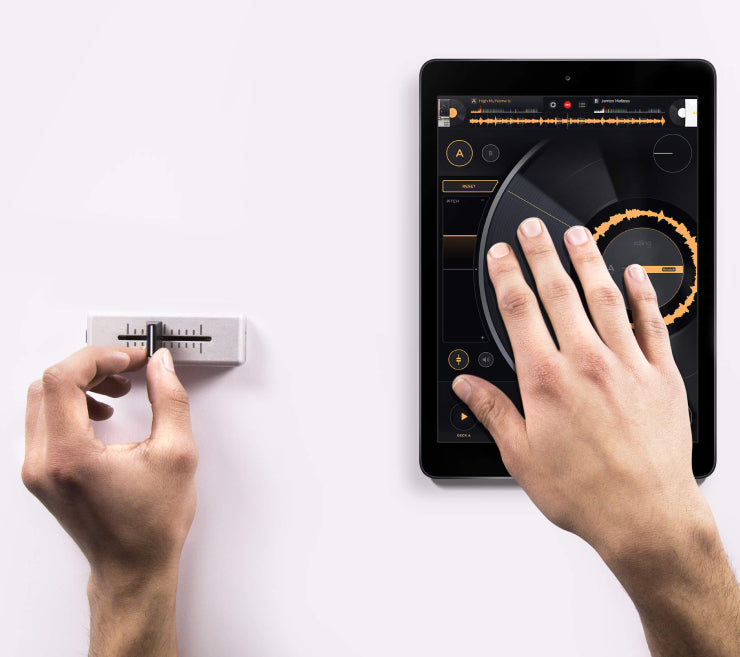 Mixfader
Free and express shipping
In stock
Mixfader and Mixfader DJ app offer a pocket-sized pro DJ setup, as powerful as your regular controller, that opens up new possibilities for turntablism.
Test it for 14 days, love it, or return it! ✅
• 10 hour battery life
• 1 hour charging
• Bluetooth 4.0
• USB connection to power mixfader
• Aluminum robuts unibody
• Super-adhesive backed-rubber for a static hold
• Apps: compatible with Mixfader dj and any DJ app that uses Mixfader SDK
• MIDI: also works with any music creation software of app that uses the MIDI standard (iOS only)
• Apple devices (following or newer): iPhone 4S, iPad (3rd gen.), iPod Touch (5th gen.), iPad Mini, Mac.
• Android devices: equipped with Bluetooth® 4.0 Low Energy or higher
• Windows devices (following or newer): Windows 10 Mobile, Windows 10
• Free and express shipping
• 14-days return to test it
• 2-year warranty
• Secure payment

Box content
In the package you will find everything you need to start using your Mixafder:
• 1 Mixfader
• 1 USB cable allows you to power it on.
• 4 adhesive pads to perfectly attached while in use.
the future of portable scratching
Scratch wherever you are!
Mixfader allows DJs to scratch and mix on the go thanks to its dedicated app Mixfader DJ. Practice on your phone or tablet or connect it to your current DJ setup and enjoy the best mobile DJ experience!
The ultimate pocket-size DJ setup.
Take it with you everyday. Mix and scratch anywhere.
Precision at your fingertips.
Thanks to to a strong wireless communication, scratch and control your sound with low latency.
Compatible with DVS and analog.
Supporting DVS technology, you can also use USB and analog turntables as well as audio records.
Out all day. 20H autonomy.
With its 20 hours of use, enjoy endless performances and practices wherever you go!
"Mixfader connects the digital world with the hardware world. It's uniquely simple and easy to use."
"Mixfader takes things a step further and makes the whole unit completely wireless."
"Mixfader guarantees audio latency that is imperceptible to the human ear."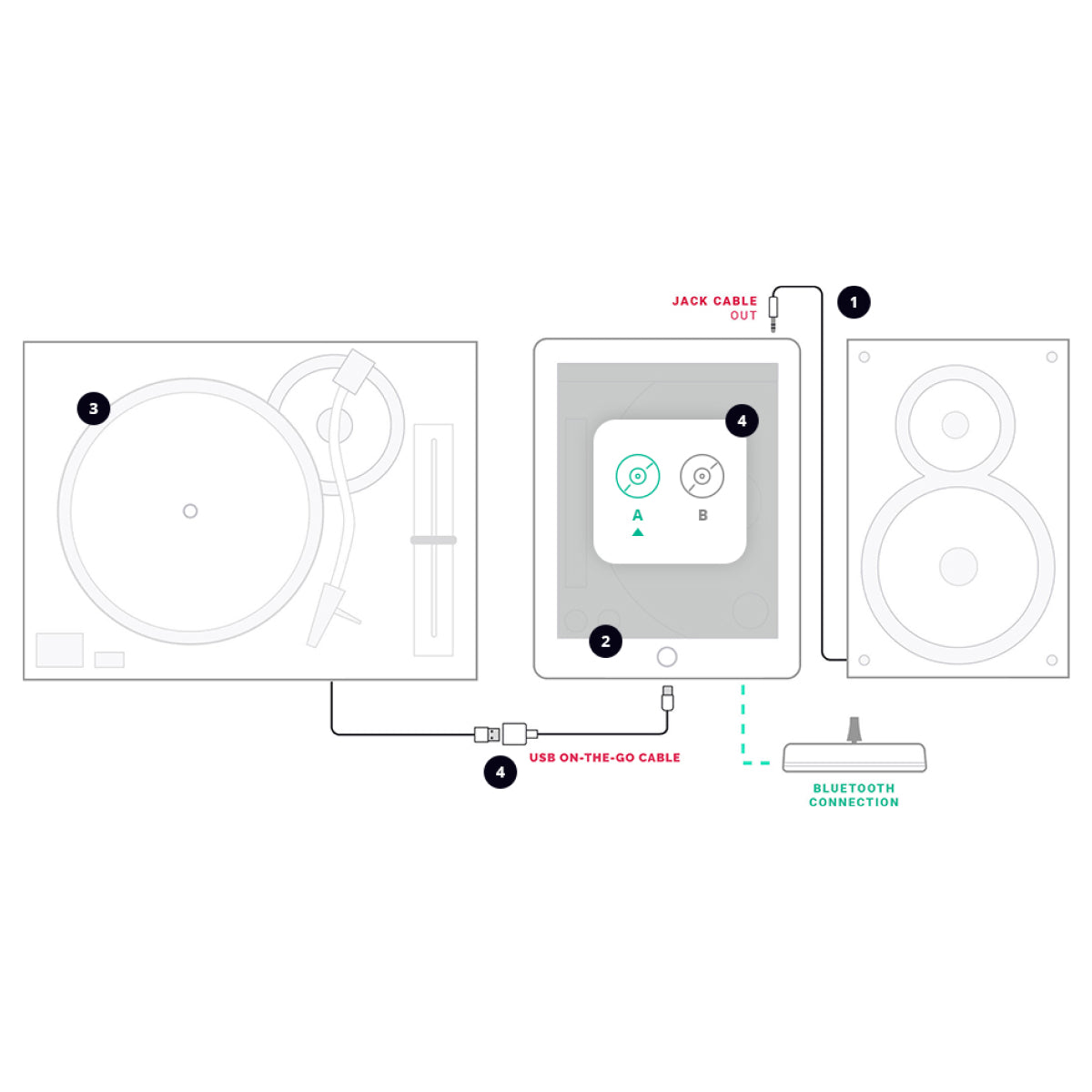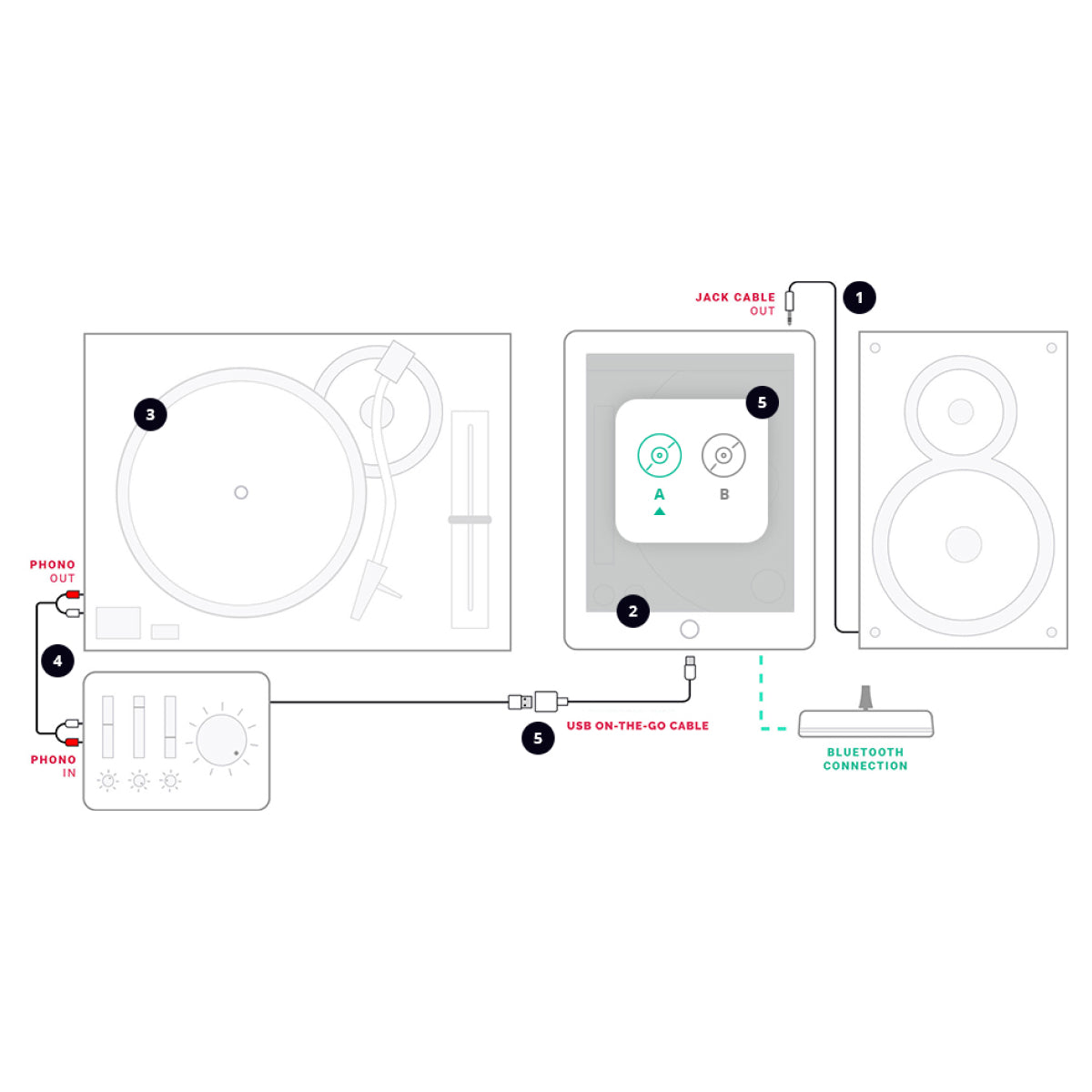 Set up with USB turntable
1). Turn your turntable on.
2). Connect your turntable to your device.
3). Plug your speakers / headphones to your device through the headphones jack.
4). Download and open Mixfader dj: a pop-up will appear for you to select your vinyl type, and the deck you want to control with your turntable.
Set up with analog turntables
1). Connect the turntable to the sound card (in most cases a double male RCA cable) on a stereo input. Make sure to use inputs 1-2 or 3-4.
2). Connect the sound card to your device.
4). Download and open Mixfader dj: a pop-up will appear for you to select your vinyl type, and the deck you want to control with your turntable.
software
Mixfader DJ, the dedicated app
Mixfader dj allows you to mix and scratch on your smartphone or tablet with your Mixfader wherever you go. Download and open the app to start enjoying your scratch session!
FAQ
If you still wonder if Phase is compatible with your setup or if we ship to your country, you're in the right place!
Mixfader can be used with smartphones and tablets running on iOS, Android & Windows.

- Apple iOS devices:
(following devices or newer): iPhone 5 onwards, Retina displays, iOS 9 onwards

- Google Android devices:
Android devices with Bluetooth® (4.0 LE)

- Apple Mac devices:
Mac devices with Bluetooth® (4.0 LE)
Before launching Mixfader dj, make sure that you activated Bluetooth® 4.0 on your device and that your Mixfader is on.
Then, open the app: Mixfader dj will automatically search for a Mixfader. As soon as a Mixfader is connected, a congratulation message will appear: you can now scratch on the go.

For Android users:
A permission pop-up will appear once your device detects Mixfader. You need to accept it to be able to connect your Mixfader. We only use those permissions to detect Mixfader dj then connect it to your Mixfader. If your device isn't connected to Bluetooth®, another pop-up will appear to let you activate it.
The autonomy of Mixfader is 20 hours, so that you never get interrupted during your DJ sets. Packed with a built-in Lithium-ion battery, the recharge of Mixfader is super fast, 25 min recharge on average, and you can keep on using Mixfader while it's charging.
Shipping costs are offered for most products, including Phase and Mixfader.For smaller purchases, like an accessory, shipping fees are calculated according to the delivery address and added to the final bill.
Additional fees such as customs duties and import taxes may apply, depending on the international trading policy of your country. We cannot predict nor have control over these additional fees.
All our products come with a two-year limited liability warranty that protects you against manufacturing defects, such as a faulty battery. If your product is defective within the two years starting on the purchase date, we will exchange it and cover the shipping fees.